Can I give you a cornbread recipe? For sure? Can I do it without writing a twitter thread about my cornbread journey? Well, I could, but… If you want to cut to the chase, go here: Otherwise, read on!
Got a recipe handy? I would love to try that!

— Than (@mynockspit) March 29, 2020
I've been cooking cornbread for a long time and eating it for much longer. I grew up in Wisconsin, but both my parents are from Georgia. Also, I lived for seven years in North Carolina, so I've been exposed to lots of cornbread.
The wikipedia article on cornbread is pretty good, explaining the differences between northern and southern cornbread (though I take some issue with describing the northern version as "slightly different").
The cornbread I make is squarely in the southern camp. I enjoy a good corn muffin, but it's not cornbread - I'm 100% Team No Sugar! (The linked Serious Eats article - from back when SE generated great content - is also worth reading.)
The truth is that cornbread is very forgiving. I've experimented with lots of variations (here are two pages of notes from my cooking notebook, e.g.).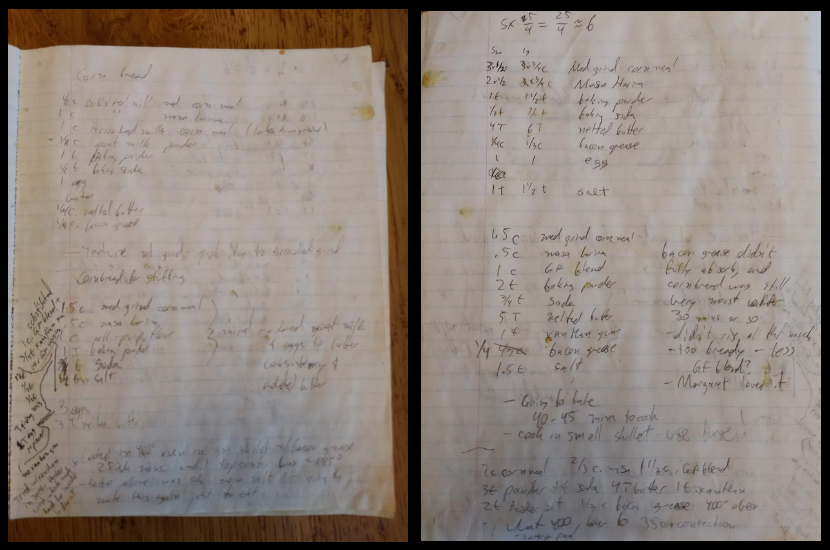 At this point in my life, I often just wing it, but I'll offer a basic recipe to start you off.
Start by putting a 9" cast iron skillet in oven set to 400 degrees. While preheating, mix the dry ingredients together:
1½ c medium grind cornmeal (e.g. Bob's Red Mill)
1 c flour
1 t baking powder
½ t baking soda
1 t table salt
Now you want to wait until the oven is preheated. Maybe longer. You want the skillet to be completely up to temp (use an IR thermometer if you are that kind of cook). Then remove the skillet from the oven and add 3T bacon grease and put back in the oven.
Next, add the wet ingredients:
4T melted butter
2 eggs
the right amount of whatever liquid you want
Here's where it gets tricky, for two reasons. First, I never measure the liquid any longer. Second, the amount of liquid is highly dependent on the grind of the cornmeal.
You need to add enough liquid so that it's a batter, not a dough. I usually aim for a viscosity that's between pancake batter and cake batter. If your liquid is cold, you probably want to add it to the dry before the butter. But, again, it doesn't matter that much.
Now take the skillet out of the oven and carefully pour the batter into the skillet. It should start sizzling and bubbling! The bacon grease should come up slightly over the top of the batter around the edges. Put it back in the oven and turn down to 350 w/convection.
Cook until it's done. When's that? Somewhere between 30 and 60 minutes, probably. It should be >180 degrees in the top center. A toothpick should come out clean (or with a few crumbs). It's best eaten immediately, with butter!
Some baked products are very sensitive to following the recipe. Cornbread is not one of them. Once you have the basics down, you can do a lot of substitution. When I was home for Xmas 2019, we didn't have enough cornmeal, so I used polenta. Worked fine.
If you look at my notes, you can see I experimented. Parts of my family are egg-, dairy-, and gluten-free, so I tried using masa harina instead of the flour for binding. Obviously, you can also use xanthan gum. But overall I found I preferred crumbly to gummy/dense.
When I make it now, I either use corn flour, or Authentic Foods GF Classical Blend from Gluten-Free Baking Classics by Annalise Roberts. However, if using it for stuffing, you will need the gum. Also, you need to accept that it's still going to crumble!
Without eggs, wheat, or gum, it's going to be very crumbly. We often eat it with chile verde, and just mush the cornbread into the chili! If you don't use milk, you might not get as much browning. The more carbs in your non-dairy milk (i.e. almond over hemp), the more browning you'll get.
I hope you've enjoyed this little excursion into skillet-cooked, no-sugar cornbread (also known as "true cornbread" or, simply, "cornbread"). If you have any questions about other substitutions or whatever, let me know!